Uncovering Ernest Mansfield's past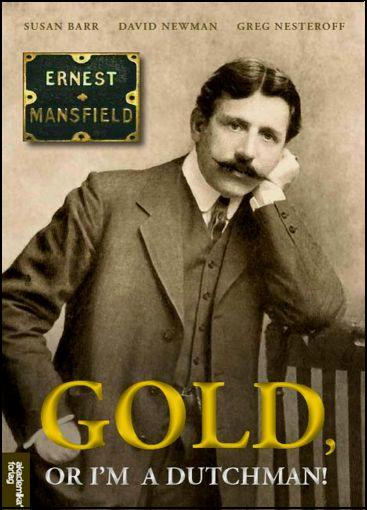 It is now recognised that discovery of Ernest Mansfield's impressive past, and the incredible quest for Spitsbergen minerals by him and other Goldhanger men, is a piece of local history in its own right. The many local and international contacts that were established and the information supplied by them over a decade which can, in a large part, be credited to the advent of the internet and email. Their contributions are listed below in chronological order using just the initials of those involved...
2006  local historian LK loaned a copy of the obituary of The Revd. Gardner from The Times for a Goldhanger history exhibition. LK suggested reading Dr Salter's Diary and Reminiscences with includes his Spitsbergen involvements in a chapter entitled: Gold In Spitsbergen.
2007  A reference was found to Ernest Mansfield, Revd. Gardner, Dr Salter and Charles Mann on a Norwegian cultural heritage website at this time. An email enquiry to the site resulted in a reply from SB who forwarded a copy of her published paper about their early expeditions.
2008  Goldhanger resident ME lent several high quality framed photos thought to be connected to Charles Mann work on Spitsbergen. It transpired they were of EM at his Camp Mansfield in British Columbia.
2008  Former resident and the son of Charles Mann, BM lent an album of Charles Mann photos of his trips to Spitsbergen and allowed copies to be make.
2008  The first newspaper articles were found in the New York Times online archive. More articles were found in the Times online archive referring to NEC and EM.
2008  Old Parish Magazines reports written by the Revd Gardner were found by Goldhanger resident IV that refered to his Spitsbergen  trips in 1904, 1905, 1906 & 1907.
2008  Discovered on the net that copies EM's two books "ASTRIA - The Ice Maiden" and "Ralph Raymond" were on offer by DK in Clare, Suffolk to any of EMs relatives as the books had family photos pasted in them. They were initially borrowed by DN.
2008  Via local historian LK, RG in Australia lent a copy of an NEC prospectus which appears to be largely written by EM.
2009  GN in Nelson BC, made contact with SB via the internet and email. We learnt from GN of EM's  many NZ, AU & CA activities. The significance of EMs Ralph Raymond book was then realised. GN supplied many references to newspaper reports about EMs activities in BC, Canada.
2009  DN contacted DK in Clare by email again and offered to buy the EMs two books which he accepted. The books remain in Goldhanger.
2009  Found many EM related newspaper reports on the  paperspast.natlib.govt.nz site and in NZ national library found a photo of EM in the Wanganui brass band.
2009  Created the Goldhanger Past website with a Goldhanger to Spitsbergen page.
2010 onwards Several local talks have been given with the title of "Goldhanger to Spitsbergen".
2010  A second NEC prospectus entitled "Marble Island" was borrowed from RG in Australia.
2010  PA in Chelmsford offered postcards and contact with the Leeds based author of "Greetings from Spitsbergen" which refers to Gardner's trip to Spitsbergen on a cruise ship and includes a photo of his wife Poppy Gardner.
2011  From the Douglas archive learnt about role of Sholto Douglas, the 19th Earl of Morton and his connection with Revd. Gardner. DN gave them some background text for their website and was given permission to use some of Douglas archive photos showing one of the Revd. Gardner's trip.
2011  Frigga Kruse, then of Groningen University in the Netherlands, made contact through SB. We learnt from her of EM maps held in the British Library. Our book is reference in her academic papers on Svalbard mining. She visited Goldhanger to se where EM, CG and CM lived.
2011  RMcN in Calgory made email contact with GN.  His family had many Booth family photos and "day book" (diary). We learnt from RMcN about David and James Booth who were brothers of Margaret Mansfield ne Booth who participated in EMs Spitsbergen exporations. RMcN kindly gave us copies of the photos and a copy of the day book.
2011  SB proposed that a biography of EMs life should be written using the extensive material we had collected with the plan to offer the book to Norwegian museums, Svalbard cruise ships and around the world. Draft chapters were exchanges via email.
2012  Mansfield's biography "Gold or I'm a Dutchman" was published jointly by the three authors SB, GN and DN. SB organised publication in Norway by Akademika Publishing. Copies continue to be sold worldwide via the internet.
2014  WMcK in Houston, Texas made contact via email having seen the website and queried why we didn't mention EMs WW-1 role. We had to admit we didnt know anything about it, so WMcK supplied copies of many sportsman's Gazette articles including poems written by EM. Sadly it was too late for the book, however the webpage has been extended to include this WW-1 period information. Some of the articles are online within "Ernest Mansfield - Journalist, Author and Publicist" (pages 84-91) and copies of all the articles are in the archives.
2017  Relevant new material continues to appear on the net, for example a Sotheby's sale in this year of a 19 page booklet with maps and photos of the Shackleton/Wild/Ponting expedition to NEC sites on Spitsbergen in 1918. The booklet sold for £6,800.
2017  DN created a summary of Mansfield activities as YouTube video and created a YouTube play-list of other EM and Svalbard related videos.
2018  Goldhanger resident AP has found in Masonic archives that the Revd. Gardner was once the "Assistant Provicial Grand Master" of Essex Freemasonry.  This finally confirmed that the original trio of Mansfield, Salter and Gardner were all greatly involved in freemasonry and this is probably not unconnected with their interest in gold and marble exploration.
the catalogue of EM activities and documents has over 600 entries
extracts from EMs extensive writings are in "Ernest Mansfield - Journalist, Author and Publicist"
EMs published biography "Gold or I'm a Dutchman" also has an extensive reference list
there are over 1100 files in the Spitsbergen Expedition folder within the Goldhanger Digital Archive
top         Goldhanger to Spitsbergen         home