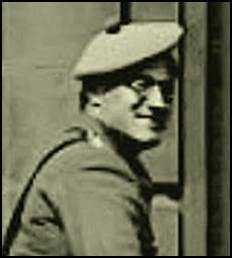 Bill Hopwood
Bill Hopwood was a 2nd Lieutenant in 2-Commandos when he took a major part in the famous Second World War assault on Saint Nazaire harbour in 1942. His full name was Howell Gaston Lloyd Hopwood. His nick name amongst his commando colleagues was "Hoppy".  In Goldhanger he was known as Bill.
The primary goal of destroying the large dry dock gates at Saint Nazaire was achieved. The rail is often referred to as the "greatest raid of all." British casualties however included 169 dead and 200 captured, out of the 611 who participated. Lieutenant Hopwood survived but was one of those was wounded, captured and interned as a prisoner of war for most of the rest of the war.
Bill was born in Australia in 1910 and moved to Black Notely in Essex with his parents in 1931. Sometime in the 1930s he joined the Territorial Army and presumably became a full-time army officer at the beginning of the war.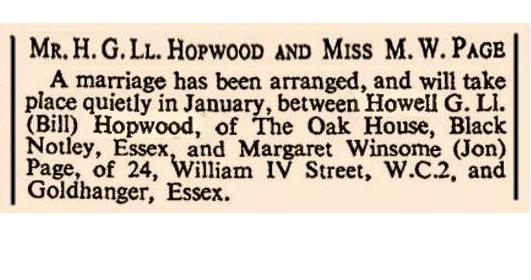 He married Winsome, daughter of Charles Page, in January 1952. Above is the marriage announcement in the Times of December 1951. It is believed they had met when Bill was a patient in a London hospital and Winsome was the hospital Almoner. She lived most of her life at The Old Rectory, Goldhanger. Bill died in 1962 and Winsome died in 2000. She always spoke proudly of Bill's involvement in the Saint Nazaire raid, but few details were forthcoming other than he was one of the officers mentioned in despatches and decorated. After Winsome's death the family donated all of Bill's medals and wartime papers to the Chelmsford museum.
Today there are many references to Lt. Hoppy Hopwood's participation in the assault on websites and in books that describe the raid on the Saint Nazaire harbour in great detail, and these has enabled this webpage to be constructed. Short extracts and photos from seven published books and fourteen websites are given below together with the website addresses. Little attempt has been made to organise the material into a logical and chronological sequence and for the purposes of this webpage his name has been set in bold font...
Lt. Hopwood is on the left in this photo with other officers taken just before the raid...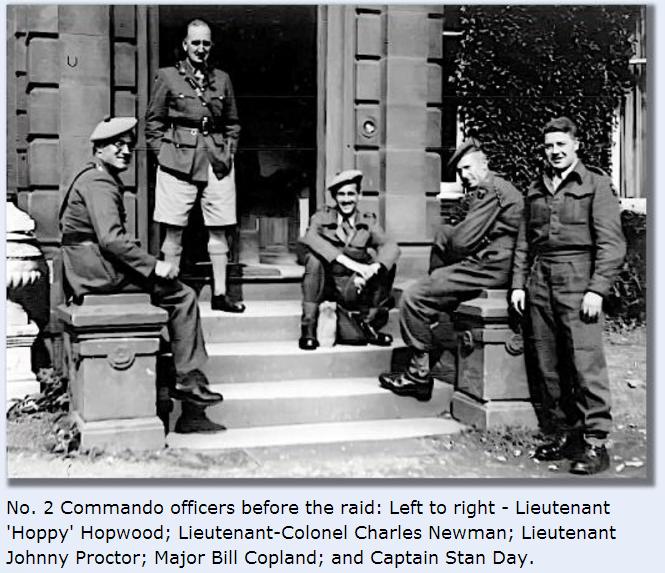 the photo is from... http://www.operation-chariot.org/armycommandos.html
Lt. Hopwood on the right in this photo, again taken before the raid in 1941...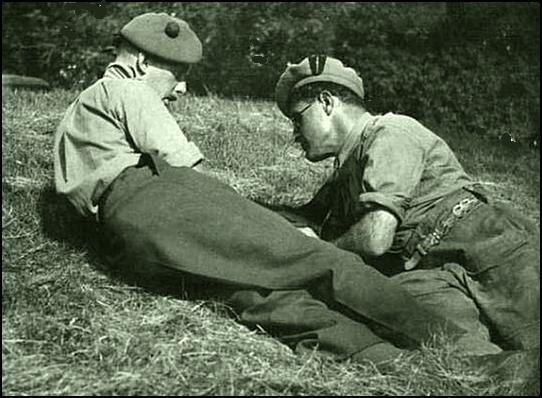 Photo from...  http://gallery.commandoveterans.org/cdoGallery/v/units/2/Gay+Black+and+Hopwood+-20+resiz.jpg.html
extracts from... Saint Nazaire - Operation Chariot 1942
by James Dorrian, published by Pen and Sword Books in 2006, also at...
http://www.warfaremagazine.co.uk/articles/Operation-Chariot-the-St-Nazaire-Raid-1942-part-2/101
and... https://books.google.co.uk/books?id=ilSOvUj7W1AC&dq=Major+Hopwood+St+Nazaire&source=gbs_navlinks_s
...dashed through the narrow doors – gangways and well decks covered with many wounded sailors – a job to get through and I had to be rather rough in dragging them out of the way where they lay across the path for my chaps coming off. "Sorry to hurt you mate, but my chaps must get through here," and "For Christ's sake leave this passage clear" – eventually to the main deck and issued orders "Roderick off – Roy off" – back to the fo'c's'le deck and found troops having some difficulty with ladders bending, but helping immediately to sling more bamboo assault ladders overside. I gave them a little time and made my way back to the main deck for the Protection and Demolition parties. On the way across the deck I heard a voice, "Major Bill, Major Bill" and going across to near the hole in the deck I found John Proctor crumpled up and bleeding badly from a leg wound. I said, "Hang on John, I can't stop now but I'll come back to you as soon as I can," – back amidships to issue the orders "Denison off – Hopwood off – All Demolition Parties off".
...Immediately to port of Campbeltown Lieutenant 'Hoppy' Hopwood's men would keep the enemy at bay while the myriad demolition charges were laid, by Lieutenant Chris Smalley at the southern winding house, and by Chant, deep within the bowels of the Pumping Station.
...As for protection, Lieutenant 'Bung' Denison would look after the northern demolition parties, and Lieutenant 'Hoppy' Hopwood, those operating in the immediate area of the ramming point.
...With the wounded clear and all his parties in action, Copland then disembarked with his own team of four. Finding that Corporal Beardsell had been wounded, he sent him off with instructions to make sure Proctor got onto the gunboat: then he set off along with Corporal Cheetham, Lance Corporal 'Jock' Fyfe the radio operator, and his batman Private Gerry Hannan. His original orders had been to make directly for the Mole: but with Roy still heavily involved with the enemy, Copland chose instead to circle northwards and approach HQ along the Quai des Frégates. As the party made towards Brett's caisson, they learned from Hopwood that all appeared to be going well at the Pumping Station. This good news was, however, tempered by a failure to establish signals communication which was to bedevil the remainder of the operation.
...With the southern winding house burning fiercely, attention turned to Chant and his team of four Lance Sergeants from 1 Commando, now lost to view deep within the heart of the Pumping Station. Under Hopwood's protection all five men had made it to the structure although, on arrival at its strong steel doors, there had been a moment of confusion when these were unexpectedly found to be locked. Appearing out of the gloom, Montgomery had blown them open with a small magnetic charge, following which Chant's party, escorted by Hopwood, had rushed inside and made for the iron stairs leading down into the blackness below.
...Johnny Roderick attempted to carry him onwards, but the pain was just too great. Having injected 'Tiger' with morphia, he therefore hurried to regain his position in the van of the column. 'Hoppy' Hopwood, much to the chagrin of Watson who; 'was determined not to be taken prisoner, but to sell my life dearly if need be,' hove into view and gently relieved him of spare Tommy-gun magazines and Colt pistol, before disappearing into the darkness. As the morphia began to take effect, others in the column came past. 'We wished each other good luck as they stumbled over me and passed on. Soon I was left to my own devices.'
...Out in La Baule, where Watson had been 'overjoyed to meet Johnny Roderick and Hoppy [Hopwood] again,' news of Campbeltown's belated eruption came in the form of loud shouting, which woke him from an exhausted sleep to find 'their' Germans had exploded too.
extract from... St. Nazaire commando,
by Stuart Chant-Sempill, published by Presidio in 1985
at... https://books.google.co.uk/books?id=WQe3RenbB7YC&q
...At this point I was joined by our assault party lead by the bespectacled and square little figure of Lieutenant Hopwood, Essex Regiment and No 2 Commando, whose responsibility was to make sure that I got into the pump-house without interference from the Germans.
extract from... https://warfarehistorynetwork.com/daily/wwii/the-st-nazaire-raid/
Lieutenant Roderick vividly remembered the breakout attempt. He and his men made a dash toward the bridge, with Captain Roy, Lieutenants Len "Hoppy" Hopwood and Bill Watson, Sergeant Alf Pearson, and others acting as forward section. "This stage was particularly exciting and fraught with surprises," said Roderick, "as all house and street fighting must be. It was during one of these scuffles that Tiger Watson was shot through the humerus; I gave him an injection of morphine.
... "On leaving Tiger as comfortable as possible, Hoppy Hopwood, Alf Pearson, and one or two others whose names fail me were searching through some warehouses, as attempts to get across the bridge at this time were suicidal.
extract from... http://www.operation-chariot.org/hmscampbeltown.html
Protection Party - HOPWOOD. Provide cover for demolition teams working at the southern end of the dock.
extract from... SPEC OPS, Case Studies in Special Operations Warfare
by William H. McRaven, Random House Publishing Group in 2009
at...    https://books.google.co.uk/books?id=0MTdIQHcDGQC&dq=Major+Hopwood+St+Nazaire&source=gbs_navlinks_s
and... https://books.google.co.uk/books?id=0MTdIQHcDGQC&dq=Major+Hopwood+St+Nazaire&q=hopwood#v=snippet&q=hopwood&f=false
The commandos left the headquarters building as a group and at-tempted to move from the Old Town area across the bridge over the main entrance and into the city of Saint-Nazaire. They encountered heavy resistance, and several men fell wounded or dead. Upon reaching the bridge, Troop Sergeant Major Haines laid down a base of fire, and the remaining commandos dashed across, firing as they moved. Upon reaching the town of Saint-Nazairc the group split up. Roy and twenty men went into a home and waited for a while. Soon they decided to depart and met Lieutenant Hopwood and ten of his men. Together the group was eventually captured when it sought refuge in a police station.
extracts from... Into the Jaws of Death: The True Story of the Legendary Raid on Saint¬Nazaire
by Robert Lyman, Published by Hachette UK in 2013
at... https://books.google.co.uk/books?id=rhRhBQAAQBAJ&pg
...Stopped in his tracks, Watson dropped his tommy gun and sat down abruptly on the road. His assailant was killed by men following behind. Johnny Roderick injected some morphine into the back of Watson's right hand, and Hoppy Hopwood, despite Tiger's vehement objections, gently relieved him of his Colt and spare tommy-gun magazines. Left propped against a wall like Stuart Chant before, the unarmed Watson now awaited the uncertain mercies of the Germans. His comrades disappeared towards the bridge in the distance, men calling out farewell as they passed.
...After leaving Watson, Roderick (who by this time had been wounded in the head by grenade fragments), Hoppy Hopwood, Sergeant Alf Searson (badly wounded in the left shoulder) and a few others judged that attempting to cross the bridge was suicidal, and sought hiding places in the warehouses on the river side of the lock. There they remained until dawn. Those who managed successfully to cross the bridge were met by rapidly intensifying German opposition. An armoured car of some kind controlled the next crossroads some 150 yards further on from the bridge. The men now broke into small groups in an attempt to break through the town into the countryside beyond.
...Four men in Group 3A2 commanded by Lieutenant Chris Smalley of No. 5 Commando would demolish the operating machinery for this gate in the winding house and four men in Group 3A3 under the command of Lieutenant Stuart Chant of No. 5 Commando would destroy the pumping house for the dry dock. They would be guarded by a four-man protection party commanded by Lieutenant 'floppy' Hopwood. The explosive charges in the pumping station and the operating machinery and outer caisson would be set off independently under the orders of Bob Montgomery.
...By 8 a.m. the Germans considered that the bulk of the Old Town had been cleared of the commandos and sailors, and brought in trucks to transport the prisoners out of Saint-Nazaire along the coast to the seaside resort of La Baule, there to process their captives and treat the wounded. ...It was a short but painful journey for the wounded, Tiger Watson feeling every jolt and bump as they made their way slowly out of the town. Bill Copland was delighted to see large numbers of the French population surreptitiously giving them V for Victory signs as they passed... At this point the wounded were taken into the hotel, while the others were segregated and then loaded onto trucks for the uncomfortable seven-hour journey to a prisoner holding centre in Rennes. It was the first opportunity the men had to gauge the success of the operation, and to see who had survived. Watson was delighted to see Johnny Roderick and Hoppy Hopwood again, although they were strictly forbidden to talk to each other.
extract from...
Winged Chariot - A Complete Account of the RAF's Support Role During the Raid on St Nazaire, March 1942
by Peter Lush, Grub Street Publishing in 2016
at...   https://books.google.co.uk/books?id=EOAjDwAAQBAJ&dq=Major+Hopwood+St+Nazaire&source=gbs_navlinks_s
and...  https://books.google.co.uk/books?id=EOAjDwAAQBAJ&dq=Major+Hopwood+St+Nazaire&q=hopwood#v=snippet&q=hopwood&f=false
The last parties were led off Campbeltown by a protection party under the command of Lieutenant Hopwood, charged with securing the area at the southern end of the dry dock for the demolition parties of Lieutenant Smalley and Lieutenant Chant to operate without disturbance. Smalley and his four corporals made straight for the southern winding house and like Purdon, found the door locked and climbed in through a window, placed their charges and retired to pull their igniters. When nothing happened, against all the rules of demolition, they went straight back in, re-set the detonators and tried again, this time successfully.
extracts from... Storming St. Nazaire: The Gripping Story of the Dock-busting Raid, March 1942
by James Dorrian, published by Pen and Sword books in 2009
https://books.google.co.uk/books?id=Rsdb4vd8GKQC&dq=hopwood+St+Nazaire&source=gbs_navlinks_s
Of the teams disembarking to undertake operations around the outer caisson, Lieutenant Hopwood's party were over the side in time for Hopwood to be holding the ladder when Dai came down from the ship; the parties of Smalley and Chant were not far behind.
With even less distance to cover from Campbeltown's bows, Stuart Chant's party made it to the pump-house even as Roy's assault troops were still clearing the area, and there met with the commander of their protection squad, Lieutenant Hopwood of the Essex Regiment, and Donald Roy's kilted 5 Troop. Hopwood had recently attended a fieldcraft course at Achnacarry Castle in the company of John Stutchbury and Tiger Watson, and Tiger has recorded his impressions of him as being that he 'was one of those delightful eccentrics that enrich the lives of those around them. Stocky, heavily moustached and bespectacled, he had a superficial resemblance to Groucho Marx.'
Attaching the magnetic device to the lock, Stuart was invited to light its fuse, only to find that as a result of his wounds his hands were too shaky and sticky with blood for him to do it properly. Lest his men attribute his difficulties to fear, Stuart asked Bob to take over, which he did, setting the fuse alight. As they waited behind the blast wall for the charge to explode, Hopwood strayed a little too close to the door and had to be pulled back by Montgomery. Then the thing went off, the door swung open and they were in.
Escorted by Hopwood, Chant's team entered the vast, echoing chamber of the pump-house, so very like its counterpart in Southampton. Standing in line before them were four large electric motors each of which was connected, by means of a vertical drive shaft descending through the floor, to an impeller pump installed on the lowest level, some forty feet below. The four pairs of motors and pumps were their primary targets, with attention being focused on the latter, whose special castings, it was believed, could not be replaced within a year; however, switchgear, transformers and subsidiary pumps were also on their hit list, the purpose being to render the whole facility inoperative.
Far removed from the battles outside, Chant and his team were reminded of them by the distant thuds of explosions, which Chamberlain confirmed was only Roy and Randall blowing the guns on the roof, before moving swiftly to bridge 'G' and leaving Hopwood and his team of four to protect both Chant's and Smalley's parties as best they could.
Moving northwards up the edge of the dry dock after leaving Campbeltown, Copland and his team heard Smalley's triumph as a 'magnifi-cent' explosion to their left rear. Next they came up to the pump-house itself where a quick word with Hopwood confirmed that all was well.
Also attempting to reach ML 262 were Lance-Sergeant Ron Butler, of Chant's party, and Lieutenant Hopwood, who had come together during the pull-back from the pump-house. Rather further away from the boat than Smalley, they too were forced to negotiate a high, wire fence which had set into it a securely padlocked gate. With no means of forcing a passage, Ron climbed up and used his feet to push the top of the gate back sufficiently for Hopwood to crawl through, after which the latter did the same for Ron. It was at this point that Hopwood started to cough, and said to Ron, 'The buggers are using gas!' But it was, as Ron quickly assured him, no more than the smell of cordite from their own side's guns.
Keeping his propellers well clear of the torpedo net, Burt was making for open water when Smalley's party was seen running toward the boat. Without hesitation he went back for them too, after which, with the ship in the basin engaging him again, he pulled clear before Hopwood and Butler could get close enough to make their presence known.
extract from... http://www.davidrowlands.co.uk/gallery/gal_detail.asp?varPaintCode=092
I (David Rowlands) produced several sketches of the Raid, and the Charioteers selected the view showing the Commandos disembarking from the fore-deck of HMS Campbeltown. The painting shows HMS Campbeltown at 0137 hrs, three minutes after ramming the gate of the dry dock. Under intense German fire and searchlights, the assault parties led by Lt. J M Roderick and Captain D W Roy have already rushed from both sides of the ship down onto the caisson. Coming down the steel and bamboo ladders on the port side are the protection parties of Lts Denison and Hopwood, with the demolition parties carrying their heavy bergen rucksacks full of explosives close behind them...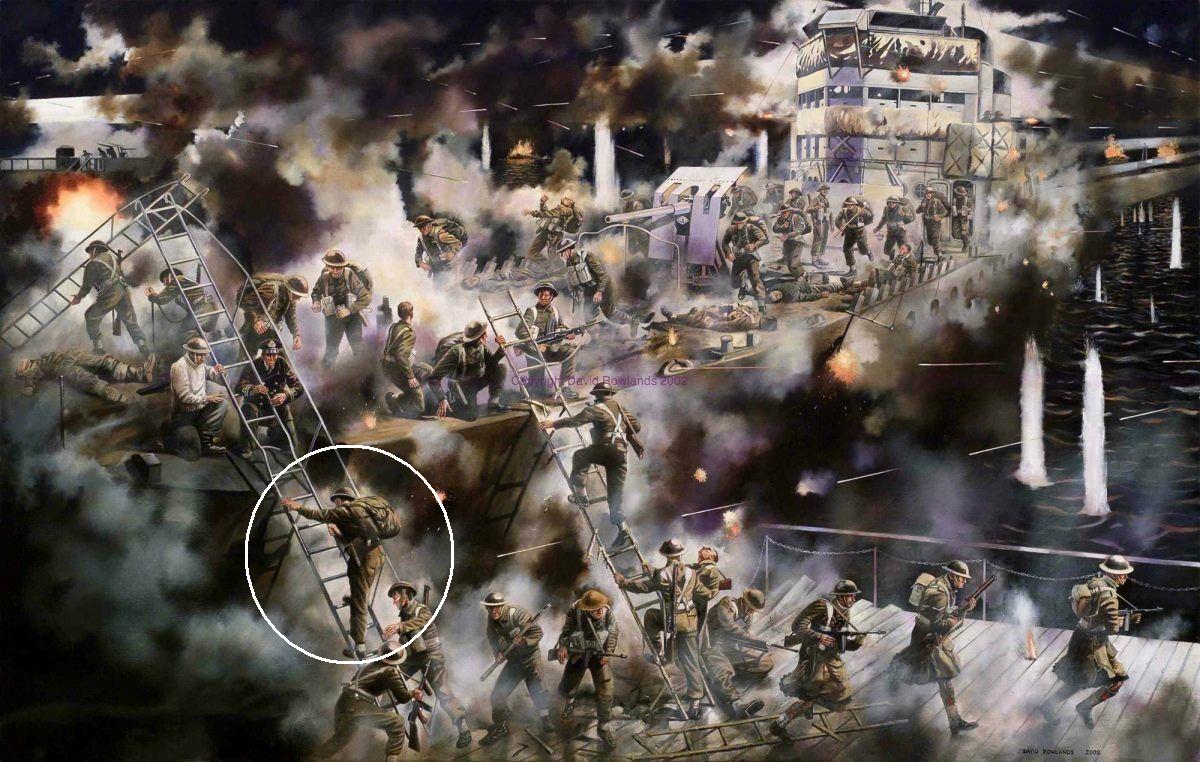 'The raid on St. Nazaire'  by military artist David Rowlands
The painting is owned by The St Nazaire Society and the National Army Museum. Larger images can be seen at...
https://i.pinimg.com/originals/95/d1/71/95d1718e9375d0e8d733489299d940f1.jpg
and... http://www.operation-chariot.org/raidpainting.html
extract from... http://www.commandoveterans.org/book/export/html/14
On Wednesday 1st April 1942 a ceremonial funeral was held to inter the dead from both sides, in a field at Escoublac, near to the German Naval HQ. The prisoners were invited to send a party to attend. Lt. Hopwood, Sgt Colin Jones and Pte. Les Whelan represented 5 Troop, No.2 Commando and the Liverpool Scottish...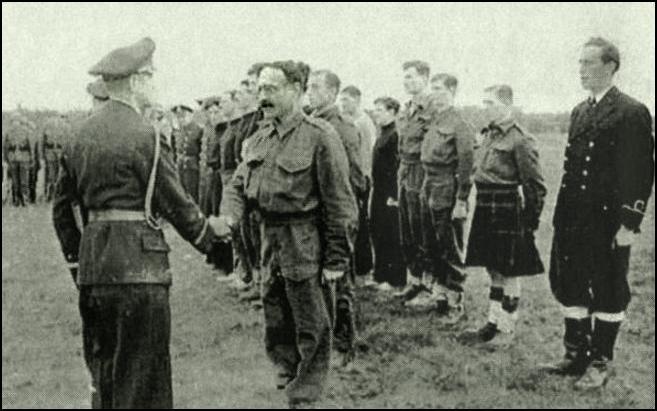 Lt. Hopwood shaking hands with a German naval officer
photo from... http://gallery.commandoveterans.org/cdoGallery/v/WW2/St+Nazaire/Burials/The+funeral.jpg.html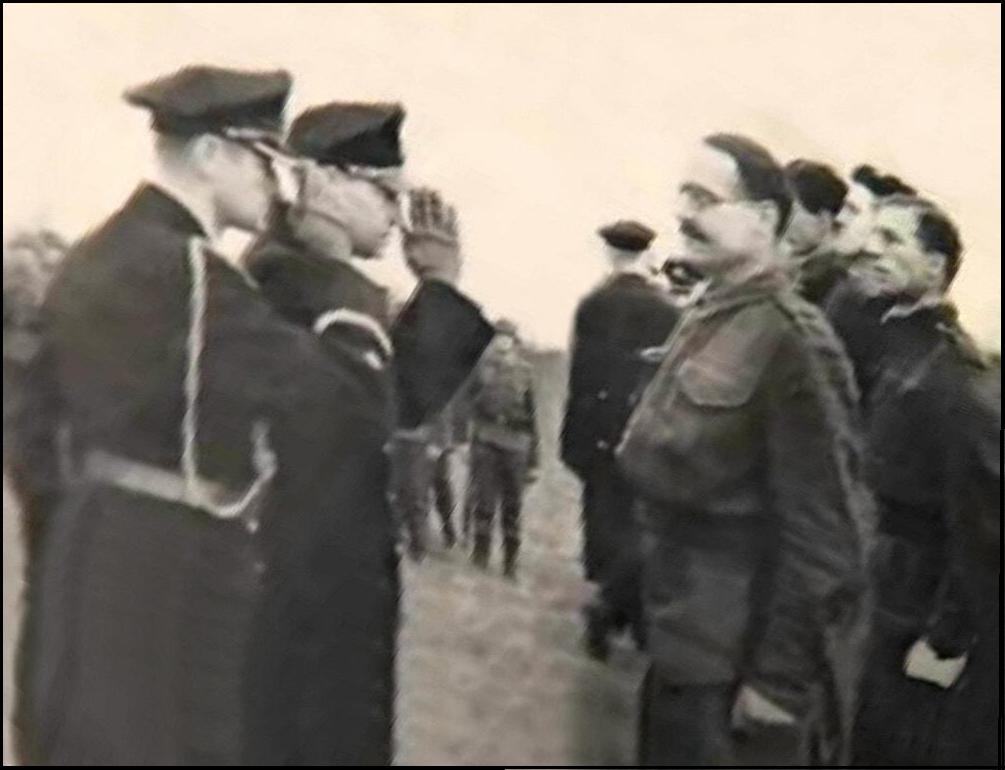 the same scene taken from a BBC documentary broadcast in 2010
entitled: The Greatest Raid of All, presented by Jeremy Clarkson
(on YouTube at... https://www.youtube.com/watch?v=nXusKM5uX0s - one hour long)
extract from... http://www.avalanchepress.com/Nazaire10.php
...The Germans also recognized British valor... they held a funeral at La Baule on April 1st, 1942 to bury the dead of both sides. Twenty British PoWs, under Commando Lt. "Hoppy" Hopwood, the remaining senior officer, were allowed to attend. Hopwood had led an escort group, and one of the men being buried was a man he'd escorted, Lt. Burtinshaw.
The Germans provided a generous wreath, placed Union Jacks on the British coffins, mounted an honor guard, and conducted a service with Protestant and Catholic Chaplains. After that, Hopwood and his men lowered Burtinshaw's coffin into the ground and let fall the wreath. Three volleys of musketry were fired in respect, and the German officers saluted as well. Hopwood and his men, hatless, were unable to return the salute, but stood at attention.
These two reports appeared in Essex newspapers in April and May 1942...

from the Imperial War Museum website at... https://www.iwm.org.uk/collections/item/object/37331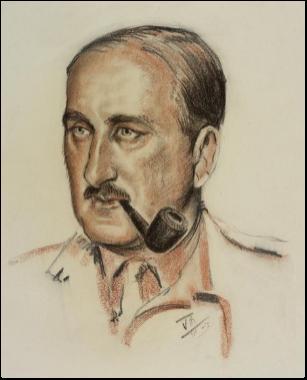 A portrait of Lieutenant-Colonel Charles Newman VC, of the Essex Regiment and No.2 Commando, who led the commando raid on St Nazaire, March 1942. The portrait was drawn by a fellow Prisoner-of-War John F Watton, and was commissioned by Lieutenant H. G. L. Hopwood, Croix de Guerre. The drawing was made during their time in the Oflag IX prisoner of war camp.
We can only speculate why Hopwood would choose to commission this painting of the leader of the St Nazaire raid and fellow POW:- They were both from the Essex Regiment, both had Essex connections as Newman came from Chigwell, and they had probably know each other for many years. Hopwood obviously respected Newman and had the resources to pay for the painting.
from the London Gazette website at... https://www.thegazette.co.uk/London/issue/37162/supplement/3494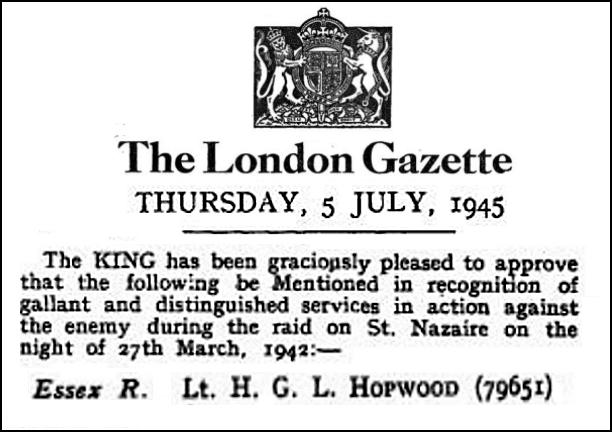 from the Imperial War Museum website at... https://www.iwm.org.uk/collections/item/object/80027839
Lt. Bill 'Tiger' Watson – an oral history
A British officer served with 1 Troop, No. 2 Commando during raid on St Nazaire, France, 28-29/Mar/1942.
IWM Catalogue number 29823, Production date 2001, Content description
Reel 1: Aspects of training with No. 2 Commando in GB, 1941-1942
...Relations between regular army and commandoes; attitude to commandoes being an elite unit; opinion of speed marching and mountaineering; question of setting example to men in Troop; various memories of Lt. 'Hoppy' Hopwood; role in charge of protection party for demolition team...
extract from... http://www.hut-six.co.uk/WW2data/WO373-46.html
extracts from... https://discovery.nationalarchives.gov.uk/results/r?_q=howell+gaston+hopwood+

1939-45 Campaign Medal                        1939-45 Star                          Croix de Guerre           .
+ the Mentioned in Despatches oak leaf                                                                                                     .
Lt. Hopwwod received one of only four Croix de Guerre medals awarded by France
in recognition of their action at St Nazaire. The other three were:
Lt.Col. Charles Newman VC, Sergeant Thomas Durrant (posthumously), Lance Sergeant Arnold Howarth
There is a Pathé News video of the Croix de Guerre medal presentation ceremony at St Nazaire in 1947
which is on YouTube at... https://www.youtube.com/watch?v=9LgINZO_xl4 
(Lt. Hopwwod has not been identified in the video, but he could be in it)
The photograph below is from a Commando Association meeting in the 1950s and is said to show Lt. Hopwood at the event. The webpage containing it, at... http://forum.commandoveterans.org/cdoForum/posts/list/561.page ...identifies him on the far left (circled in grey), however the man in the middle (circles in red) seems a better fit to the descriptions contained in the above extracts, ie "bespectacled and square little figure" and "a superficial resemblance to Groucho Marx" and has a closer resemblance to his appearance in the April 1942 Ceremonial Funeral photos shown above.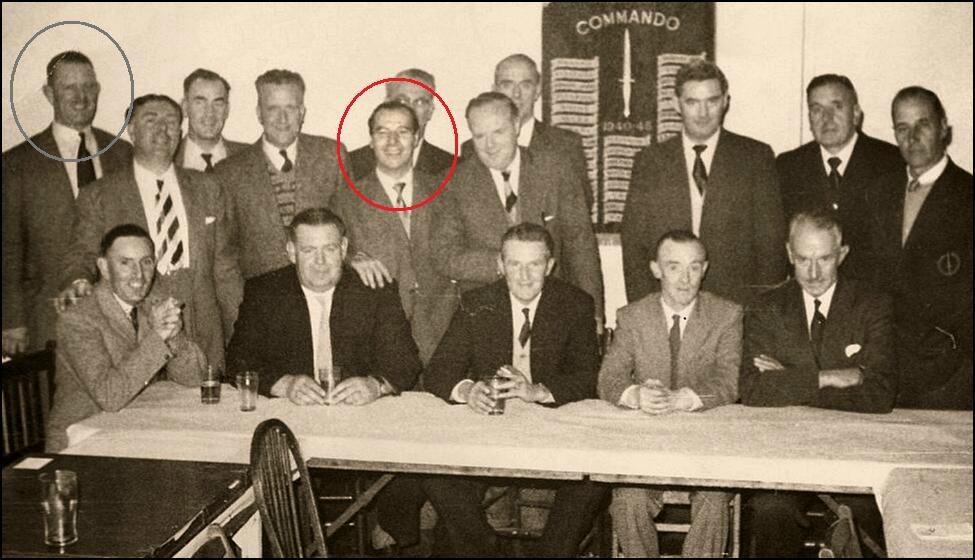 __________________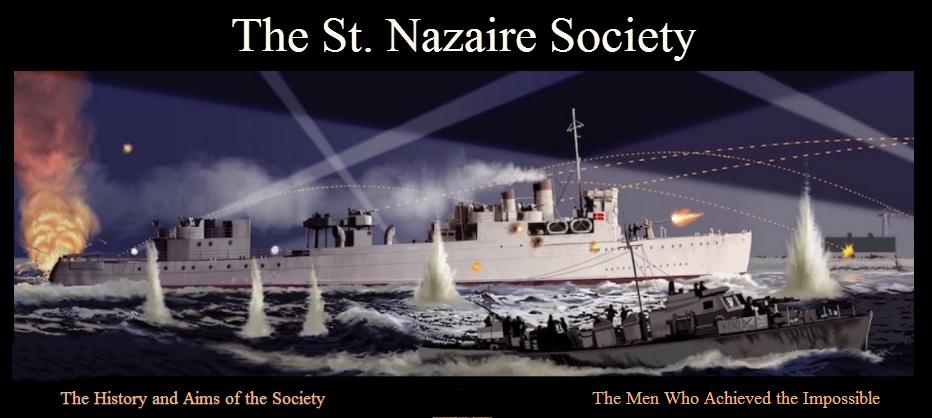 The St. Nazaire Society website is at...
http://www.operation-chariot.org
Lieutenant Hopwood in named on these pages...
http://www.operation-chariot.org/hmscampbeltown.html
http://www.operation-chariot.org/personnel-20.html
top               WW-2 at Goldhanger          Characters from the past           home