1929 - 2015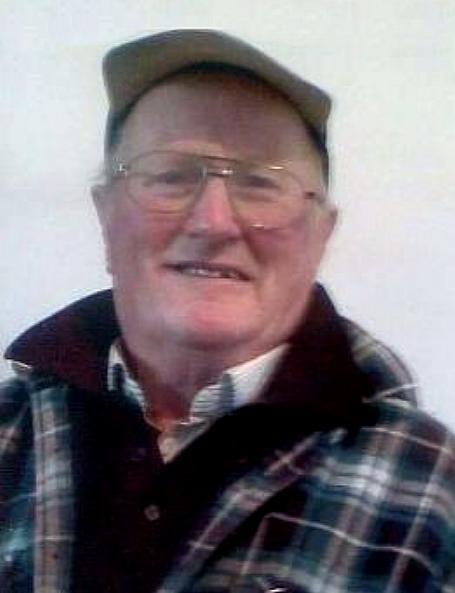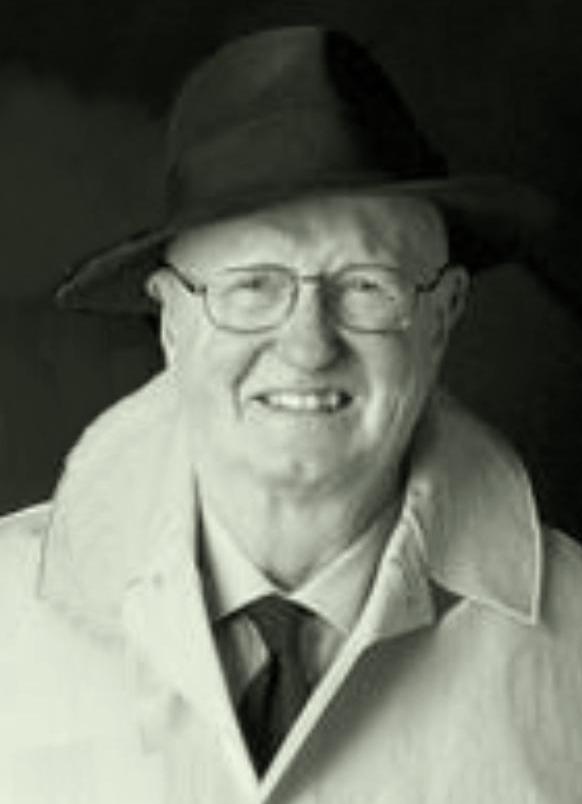 Denis spent his entire life in the village. He was a born on the Maldon Rd. in 1929 to Agnes and Albert Chaplin and had three brothers, Herbert, Cecil and Kenny. Their father died when Denis was just 3 years old and Denis was brought up by Teacher Lily Clark and her parents Mr & Mrs Shepherd Clark in Fish St. Most of the photographs on this page were donated to the archives by Denis in the 1990s. Some came from his brother Cecil and some from Denis's relatives just after his death.
The Fish St cottages opposite the Bird-in-Hand that Denis was brought up in

Denis's father on right

with his uncle on left

Mr & Mrs Shepherd Clark

Shepherd Clark

Denis as a 3 years old with Ernie Barbrook and his "Bean" taxi in Church Street

<![if !supportMisalignedColumns]>
<![endif]>
Denis attended the village school when his Aunt Lily was a teacher there in the 1930s, but doesn't seem to be in this 1930s school photos that shows Teacher Lily at the right hand end...
However he does appear as a school boy in these two early photographs taken in the Square and outside Hall Farm...
| | | |
| --- | --- | --- |
| Coronation celebrations in The Square in 1937 | outside Hall Farm | |
Denis spent most of his life working as a tractor driver at Joyces and Highams Farms, and he lived on the farms, including living in a caravan in the 1960s and 70s. During tha later part of his life he lived at Highams Cottages on the Maldon Road...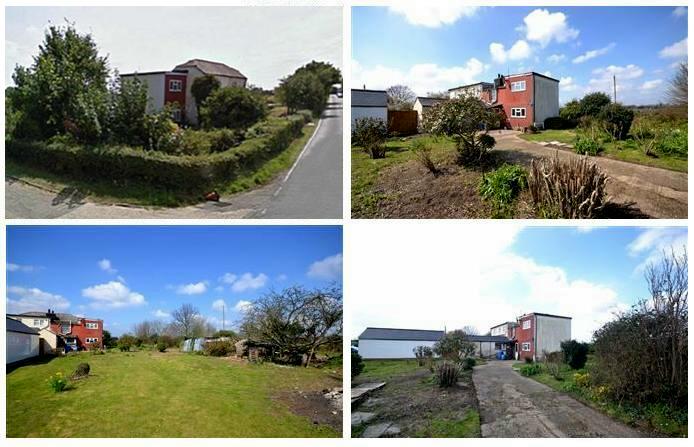 Highams Cottages
He plucked turkeys at Christmas and worked on Highams Farm Pick Your Own fields in the 1980s and 90s. After the PYO business closed, Denis worked for Colchester Council as a gardener in their landscaping department until he retired.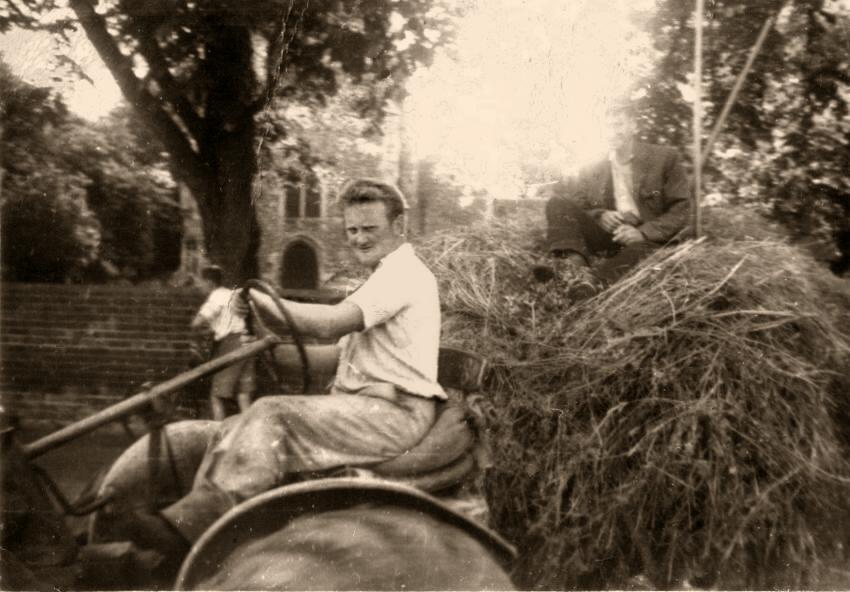 Denis as a young man clearing grass from the churchyard
He had a passion for sport and began playing cricket for Goldhanger in 1946. In 1951 he became the Secretary, Groundsman and Captain until the team lost the use of The Park in 1958. His love of cricket never left him and he was an enthusiastic member of the Essex County Cricket Club for many years.
| | | |
| --- | --- | --- |
| Goldhanger Wanderers in 1947 | the cricket team in the1950s | |
He was goalkeeper for the Goldhanger Wanderers football team. In 1951 Denis qualified as a referee for local leagues, a role he held  for over 20 years and was proud to be selected by the Essex Association to be a steward at the 1966 World Cup Final. He went on to manage the Goldhanger Club and became Registration Secretary for the Maldon Sunday League.
During the 1960's Denis was an active member of the Sailing Club taking part in races with his brother Herbert. In the 1980s Denis took up Carpet Bowls, was a founder member of the Goldhanger club, and more recently played with the Tollesbury Club.
Denis retired at the age of 65 but continued to work as a gardener in and around the village for many more years.  He was a long standing member of the Friendly Brothers. Denis had a wonderfully wicked sense of humour and a sharp memory to recall his early life in the village, and he provided the archives with not only early photographs but many recollections of village life in his younger days, including this wonderful letter written by Denis's relative Shepherd Clark (whose photo is shown above) to his employers Charles Page and his son Rex at Old Rectory Farm...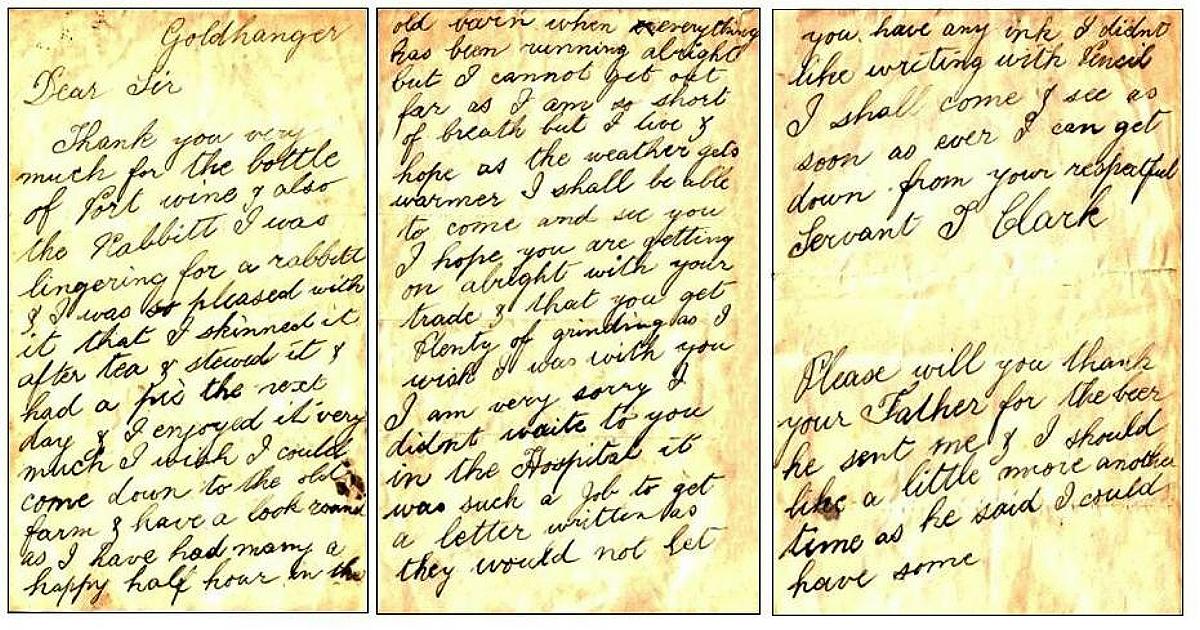 Denis told us that Sheperd Clark was St Peters Church clerk and sexton for many years. His impressive gravestone in the churchyard dated 1918 records this, which is also inscribed with:  "Erected to his pious memory by members of the congregation".
Over the years Denis supplied the archives with Information about many other aspects of village life included:
O  Memories of Charles Page, whom Denis worked for as a tractor driver.
O  Memories of Crawshay Frost, whom Denis worked for as a teenager tending for his animals.
O  Descriptions of the Pit Cottages on the Maldon Road and Charles Page's jam factory,
enabling sketches of both to be made, as no photos have ever been seen...
O  His Aunt, Teacher Lily was presented with a copy of the childrens book "Goldhanger Woods" in 1900 by the Rector.
Denis inherited the book and allowed these copies to be made...
O  the village school managers presented his aunt, Teacher Lily with a easy chair on her retirement in 1939.
Denis held the framed commemorative plaque and allowed this copies to be made...
O  A description of the inside of the Wesleyan Chapel
O  Reminiscences of the Revd. Gardner including:
On special occasions in the early 1930s, when the Revd Gardner was incumbent at The Rectory, he would give out buns at the front door of the Rectory. Schoolchildren would queue for their bun then run around the house, through the bushed and re-join the queue for a second bun.
In later life, when the Revd. Gardner was more severely affected by motor neuron disease; he spent much of his time in a wheelchair. He was remembered being pushed in a wheelchair down Church St. from the Rectory to the Church by his man-servant, and the locals would stand and doff their caps as he passed.
A celebration of Denis's life was held in St Peters Church on the 4th of November 2015.
It was attended by a very large congregation.
Characters from the past              top                    home